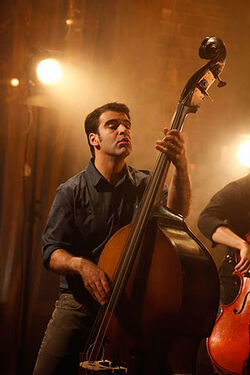 Bob Crawford plays the upright bass, bass guitar, fiddle, and on rare occasions the trumpet for The Avett Brothers. Bob occasionally lends lead vocals to songs, most notably "Letter to a Pretty Girl", "40 East", "Distraction #74", and "Good To You".
Although he is not related to Seth or Scott Avett, he is a founding member of the band, joining in 2001 after The Avett Bros. EP but for the entire writing and recording process for 2002's Country Was.
Bob is married to Melanie Crawford and the two together have a daughter, Hallie Crawford who was born in 2009 and a son who was born in late 2011.[1]
Bio
Bob was born on March 31, 1971 in Cardiff New Jersey and attended Egg Harbor Township High School.[2] After studying at Richard Stockton College of New Jersey Bob worked as a production assistant and technician at TV studios and in film production, which took him to Charlotte, North Carolina. After a couple of years in the film industry Bob decided to become a music theory teacher so he enrolled at Winthrop University in Rock Hill, South Carolina in 2000, studying jazz guitar.[3]
Bob played electric bass guitar for the bands Blue Green Gauge and The Memphis Quick 50 for a couple of years before joining The Avett Brothers in March 2001.[4] Apart from his studies at Winthrop he was performing with local bands to make ends meet before he was contacted by Seth and Scott to audition for their band.[5] The legend goes that Bob had been playing the upright bass for only a few weeks before he was approached by the brothers to join the band.[6] They played a handful of songs — some originals from their debut EP and some covers, including Woody Guthrie's "Worried Man Blues" — in a record store parking lot as the audition. Seth and Scott drove to San Francisco to play near Pier 39 before returning a month later to ask Bob to join the band. During their early days, Bob pushed the band to tour outside of their comfort zone of North Carolina.[7] He was with the band as they recorded all albums from Country Was forward.
In 2006 Bob took a short period of time to release a solo album on Ramseur Records under the project New Jersey Transient. He was assisted by Seth Avett and the project released one self-titled album. In 2008 Bob and other members of The Avett Brothers helped Paleface record the album A Different Story and the following year they all recorded The Show is on the Road.
In 2009 Bob and his wife Melanie welcomed their daughter Hallie Crawford into the world. In 2011 Melanie called Bob and explained that she found Hallie, not quite 2 years old, in her crib having a seizure. The doctors performed a scan and found a brain tumor. Bob took time off the band's tour in 2011 to be with his family as Hallie recouperated. Hallie beat the odds and survived but continues to battle her condition. The Crawfords, along with the Avett Nation and the rest of the band are avid supporters of St. Jude Children's Research Hospital.[8]
In 2016 Bob began a podcast titled The Road to Now along with Ben Sawyer. The podcast features interviews and stories about history. http://www.theroadtonow.com/
Videos
Images
External links
References
Community content is available under
CC-BY-SA
unless otherwise noted.