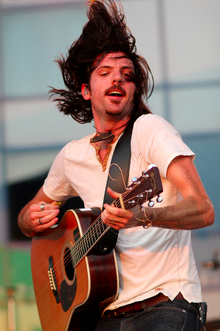 Timothy Seth Avett is one of the lead singers and founding members of the band The Avett Brothers. Seth sings and plays guitar, hi-hat, drum kit and piano for the band. His solo side project is known as Timothy Seth Avett as Darling.
Personal Life
Edit
Seth Avett is the son of Susie and Jim Avett of Concord, NC. He is the youngest of three children. Bonnie, his older sister, was born in 1973, and Scott, his older brother, was born in 1976. Seth was born in Charlotte in 1980. His father owns a welding business in Concord, and his mother teaches school. Seth got married to Susan in 2008 but divorced in 2013. He was engaged to actress Jennifer Carpenter in early 2015 and has a baby with her in June 2015.
Music Career
Edit
Seth and Scott were heavily involved with their own bands during their college years. During this time, Scott was playing with Nemo in Greenville and Seth was playing with the Charlotte-based band Margo, which was started by high school friends. Seth Avett was the lead singer and played lead guitar, Noah Warner was the drummer, one of the guitarists, the backup singer, and the writer, Kenny Graham was back-up guitarist, and Ben Sawyer was the bass player. Seth and Noah grew up best friends from about the 5th grade, they played soccer together and started playing music together. While in high school they started their first band, "Nothing". They eventually changed to the Margo moniker putting on shows at the local Lions Club and then started playing bars in Charlotte, even winning the local high school Battle of the Bands show. Margo had the song "Dumbfight" published on a compilation album with the California production company Rodelle Records. (Scott has been quoted classifying Margo's music as "melodic rock".) The brothers decided to merge the bands while maintaining the name "Nemo" in 1998.Eventually, Nemo broke up and, with the addition of acoustic instruments and bassist Bob Crawford, The Avett Brothers were formed.
External links
Edit