The Avett Brothers are a folk rock band from Concord, North Carolina. They have been writing and performing music since 2000 and have released sixteen albums, including nine full-length albums, four live albums, and three EPs. Their most recent album, True Sadness was released on June 24, 2016 and their upcoming tenth album will release in 2019.
The band is composed of brothers Seth and Scott Avett with Bob Crawford on bass and Joe Kwon on cello. Current touring members include Mike Marsh on drums and Bonnie Avett Rini on piano.
About the band
Edit
Writing process & inspiration
Edit
Although their catalog includes over 150 original songs, The Avett Brothers, namely founding brothers Seth and Scott Avett, are constantly writing new material. In their earlier touring days they would perform their new material in front of audiences soon and often but since finding success they let new material gestate longer before revealing them to the world. During the writing process, Scott and Seth usually lead the charge forming the basic structure, melody and lyrics before asking Bob (who claims to act as "tie breaker") and Joe for input.[1] Because they tour extensively, the band must set aside weeks to record demos, a practice they learned by working with Rick Rubin, and record the final album versions.[2]
The Avett Brothers take inspiration from a wide variety of artists and genres, which is evident in their style and music. Seth is a professed fan of Sam Cooke, Louis Armstrong, and Tom Waits.[3] Scott claims both were inspired by growing up listening to John Denver, Three Dog Night, Bob Dylan, and Neil Diamond[4], Merle Haggard, John Conley, Tom T. Hall, Alan Jackson, Randy Travis, and George Strait[5] as well as Jerry Garcia's bluegrass supergroup Old and In the Way.[6] Both claim Hall & Oates, Alice in Chains, the Pixies are influences.[7] Recent influences include Langhorne Slim, Regina Spektor and Lucinda Williams.[8]
The Avett Brothers are a touring force. As of 2018 they perform at both seated and general admission venues, mostly with large capacity. It is common for them to play historic opera halls, outdoor amphitheaters and music festival stages. Their concerts always include songs from multiple albums, and it is not uncommon for them to reach back to their early work during a show. The band's set lists change from show to show and include a majority of original songs and some covers. New material is played occasionally.[9]
The band has toured in Europe, but mostly stays within the continental United States.[10] Since 2009 the band has played an annual New Years Eve show in their home state of North Carolina[11] and makes an annual appearance at Red Rocks amphitheater in Morrison, Colorado every July.
As of 2018 the band's tour yearly schedule has never been released in full, but rather piecemeal over Facebook, Twitter, and their fan club's email list. Their tour listings can be found at theavettbrothers.com/tour.
Cultural impact
Edit
Music by The Avett Brothers is often heard on the radio or web streaming services. Their most successful album to date, I and Love and You sold over 500,000 copies from its release in 2009 to 2014 when it was certified Gold. Their second most successful record, 2012's The Carpenter, sold 98,000 copies in its first week of sale, peaked at #4 on the Billboard 100 and was nominated for Best Americana Album Grammy at 55th annual Grammy Awards.[1] 2016's True Sadness peaked at #3 on the Billboard 200 and topped the Folk charts.[12]
Their music has had a limited amount of use in movies, television, and commercials. They have appeared on nearly every major late-night American TV show since their first appearance on Late Night with Conan O'Brien on May 12, 2007 to support their album Emotionalism.
The band is credited with being a major contributor to the folk/roots music revival of the mid-2000's, along with Mumford & Songs, The Lumineers, and others.[13]
Margo, Nemo, & The Back Porch Project
Edit
Scott Avett was born in June 1976 to Susie and Jim Avett in Concord, North Carolina. Jim Avett, a welder by profession but musician by heart, raised Scott and his older sister Bonnie to play instruments and participate in music. Four years later Seth Avett was born to the same musical environment.
Nearly two decades later, while attending Mount Pleasant High School in Mount Pleasant, North Carolina, in 1997/8/9 Seth Avett co-founded a grunge band called Margo with his friends Kenny Graham and Noah Warner. Margo released one song name "Dumbfight" on a compilation album. Scott was studying at East Carolina University where he met John Twomey. Scott and John formed the grunge punk band Nemo.
Seth and Scott would share their bands' music and the bands began to collaborate and decided to combine into one band. Nemo now consisted of Scott on lead vocals, Seth and John on guitar, Kenny on bass guitar, and Noah on drums. Nemo released three albums (So Is That Of Man, Nemo, and Vol. 1) and played at local Greenville establishments.[14]
Scott began to learn the banjo and he, Seth and John started experimenting with acoustic music. After a few street performances and get-togethers they called "The Back Porch Project" or "Nemo Downstairs," the brothers and Twomey self recorded their first CD titled The Avett Bros. in 2000.[7]
Bob Crawford & Country Was Edit
In 2000-2001 Nemo amicably disbanded, but the five men are still good friends.[14] Now calling themselves The Avett Brothers, Scott, Seth, and John continued to write acoustic music together on banjo, guitar, and guitar, respectively. The band began looking for an upright bass player and was introduced via a friend to New Jersey transplant Bob Crawford. Seth, Scott, and John interviewed and jammed with Bob in a Dairy Queen parking lot on a Sunday afternoon in 2001.[15] Bob had played electric guitar for the bands Blue Green Gauge and The Memphis Quick 50 but had only played upright bass for a couple of weeks before that fateful Sunday afternoon.
Seth, Scott, John, and Bob were a four-piece for three shows, according to John Twomey, who left the band after growing tired of being in bands.[14] Seth, Scott, and Bob proceeded to write and self-record their first album Country Was which they began selling at shows in January 2002.[16] The Avett Brothers decided to hit the road and set out on a self-booked tour to promote the new album.[17] On April 17, 2002 the band performed a show at the Double Door Inn in Charlotte, North Carolina. They self-released the performance on Live at the Double Door Inn which they sold at their shows and at local music stores.[18]
Ramseur Records
Edit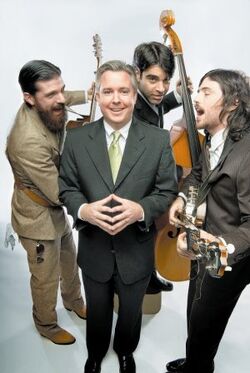 In 2003, music-fan and Concord native Dolph Ramseur was informed about The Avett Brothers by his mother.[19] He called the brothers and they invited him to a show of theirs at the Wine Vault in University City, North Carolina. After the show they were cautious that he was trying to swindle them but he convinced them to sign with his label Ramseur Records.[20] Their first studio album, A Carolina Jubilee, required 70 hours in the studio. The lengthy recording sessions, which included two family friends on supporting vocals and Eric Lovell on various supporting instruments, showcased the band's genre-crossing writing and performing abilities unlike their previous albums.[21] Initial purchases of A Carolina Jubilee at record stores were combined with an Untitled 2003 EP containing two exclusive songs which were later made available on iTunes.
In 2003 Scott was accepted into art school at Florida State University. He challenged Dolph Ramseur to book them at the local MerleFest music festival, threatening the leave the band. Dolph booked the band for no fee at the May 2004 MerleFest.[22]
Three months before their first MerleFest The Avett Brothers released their first single EP Swept Away at record stores as a promotion for their next album, Mignonette, which was released on July 27, 2004.[23] Mignonette received critical praise and healthy word-of-mouth growth which helped the band book larger and larger venues. In May 2005 their second live album Live, Vol. 2, which was recorded at both Charlotee North Carolina's Neighborhood Theatre in 2003 and Raleigh's King's Baracade in 2004, was released on the Ramseur label.[24]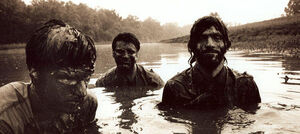 In late 2005 the Scott, Seth, and Bob holed up inside a lake house in Robbinsville, North Carolina. They invited friends, including Paleface and Scott's wife Sarah, to write and record music over the next 10 days.[25] After completing 31 songs, the band arranged 17 for February 2006's Four Thieves Gone: The Robbinsville Sessions which released to much critical acclaim.[26] The title song "Four Thieves Gone" and the whole album explore the blurry line between artistic inspiration and thievery.[25]
While touring for Four Thieves Gone Scott and Seth wrote and produced the six-song EP The Gleam, composed of more intimate songs than on their other records. The Gleam was released on Ramseur in September of 2006.[27] On September 7, 2006 Bob Crawford's side project New Jersey Transient, aided by Seth Avett, Daniel Coolik, and Mike Cuzulak, released their self-titled album.
The band released Emotionalism on May 15, 2007. It debuted at the top of the Billboard Top Heatseekers Albums chart, No. 134 on the Billboard Top 200 and No. 13 on the Independent Artist Chart.[28] In support of the album, the band made their national television debut on May 12 on Late Night with Conan O'Brien where they performed "Paranoia in B-Flat Major."[29] Emotionalism marked the first appearance of cellist Joe Kwon, who has since become a full-time touring and recording member of the band.[30]
On November 1, 2007 The Avett Brothers won the Americana Music Association Duo/Group of the Year and New/Emerging Artist of the Year awards.[31] In July 2008 the band released The Second Gleam, another stripped-down acoustic album like 2006's The Gleam.[32] Also in July 2008, the band announced they had chosen Rick Rubin to produce their next album and were now signed to his American Recordings label.[33] Dolph Ramseur would continue to be their manager.
With Rick Rubin
Edit
From September 8 to October 8, 2009, the Avett Brothers released 13 short videos describing their music and fans in anticipation of their upcoming album, I and Love and You. The videos include clips from past concerts, fan interviews and interviews with the members of the band. The Avett Brothers were named "the Artist to Watch of 2009" by Rolling Stone magazine.[34]
I and Love and You was released on September 29, 2009 and peaked at No. 16 on the Billboard 200 best selling albums, No. 8 in best selling digital albums, No. 7 in rock albums, and No. 1 in folk albums. In the wake of the album's release, the Avett Brothers made the rounds on late-night TV, including appearances on the Late Show with David Letterman,[35] The Late Late Show with Craig Ferguson,[36] and Late Night with Jimmy Fallon.[37] On January 21, 2010, the band was featured on the long-running PBS series Austin City Limits.[38] Later that same year, they performed at the Bonnaroo Music Festival.[39] In January 2010 drummer Jacob Edwards was added to the Avetts' touring lineup.[40]
In the fall of 2010 the band released their first DVD, Live, Volume 3. Also released on CD, the performance was recorded the previous year during the band's homecoming concert at Charlotte, North Carolina's Bojangles Coliseum.[41] In early 2011 Avett Brothers bassist Bob Crawford learned that his daughter Hallie had a seizure due to a brain tumor. He took a hiatus from the band and was temporarily replaced by Langhorne Slim bassist Paul Defiglia.[42] Bob returned to play with The Avett Brothers on the 53rd Grammy Awards in 2011, playing "Head Full of Doubt/Road Full of Promise" before joining Mumford and Sons and Bob Dylan for a performance of "Maggie's Farm."[43] After successful treatment at St. Jude Children's Research Hospital his daughter's condition stabilized and he returned to the band. The band kept Defiglia on as a touring member, playing organ, double bass, and keyboard.[44]
In 2011 the band began the demo process for the followup to I and Love and You for a 2012 release, produced again by Rick Rubin. 24 songs were recorded.[45] On June 26, 2012 The Avett Brothers released a preview on NPR music of the single, slated for a July 3, 2012 release, "Live and Die". With this they announced they would release their sixth album The Carpenter on September 11, 2012.[46] It debuted at number 4 on the Billboard Top 200 and was nominated for Best Americana Album Grammy at 55th annual Grammy Awards.[1]
Jacob Edwards left the band in December 2012.[40] Mike Marsh, formerly the drummer of Dashboard Confessional who recorded songs from I and Love and You, joined the band as a touring member at their annual New Years Eve show in 2012.[47]
On June 12, 2013 The Avett Brothers announced the follow-up companion to The Carpenter to be released in the fall of 2013.[48] On July 27 at the Newport Folk Festival, The Avett Brothers announced that this new album would be called Magpie and the Dandelion. On August 8, 2013 the band announced via NPR that Magpie and the Dandelion, which consisted mostly of songs recording during The Carpenter sessions, would be released on October 15, 2013. The NPR announcement also premiered their new single "Another is Waiting."[49] The album was released to generally warm reviews and peaked at #5 on the Billboard Top 200 during its first week.[50] Tania Elizabeth, who had recorded with the Avetts during the The Carpenter/Magpie and the Dandelion sessions, began touring with the band on November 21, 2013.[51]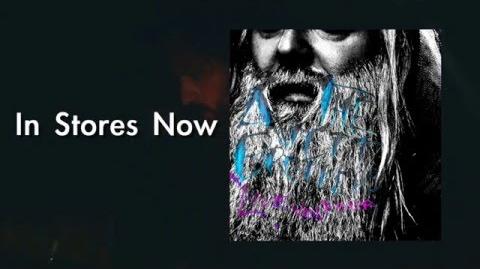 The band toured extensively over 2014, including expanding their annual residency at Red Rocks Amphitheater in Morrison, Colorado to a 3-night run. In March 2015 Seth Avett and friend Jessica Lea Mayfield released and toured in support of their tribute album Seth Avett & Jessica Lea Mayfield Sing Elliott Smith. On December 18, 2015 the band released their fourth live album, Live, Vol. Four. The album contains 13 songs performed at their 2014-2015 New Years Eve show in Raleigh, NC including two never-released songs.
At the end of May 2014 Seth Avett and Bob Crawford mentioned in different interviews they were currently in the demo recording process for their next Rick Rubin produced album.[52] After two years of offhand mentions, Seth Avett formally announced the album, titled True Sadness and its release date of June 24, 2016.[53] The album was released to generally warm reviews and reached #3 on the Billboard Top 200 during its first week.[54]
In January 2017 it was announced that longtime Avett fan Judd Apatow and his collaborator Michael Bonfiglio had filmed a documentary about the making of True Sadness. The documentary, titled May It Last: A Portrait of The Avett Brothers would premiere at the March 2017 SXSW film festival.[55] The documentary was then picked up by HBO for home distribution in 2018 and a nationwide theatrical release in September 2017.[56]
On August 18, 2017 it was publicly announced that Paul Defiglia was leaving the band to pursue other musical ventures, effective September 3, 2017.[57] The band stated they had no immediate plans to replace Defiglia but is currently touring with their sister Bonnie Avett Rini on the keyboard. On August 27, 2018 violinist Tania Elizabeth announced on Instagram that she was taking a leave from the band due to her pregnancy.[58]
In late September 2017 the band stated in an interview that "the process has begun" working on their tenth studio album.[59] In September 2018 the band was still in the recording process for the album.[60] In an October 30, 2018 interview Scott Avett said mixing was underway and the album should release in 2019 and it will address "more about blatant social and political issues than ever before."[61] On November 16, 2018 the band released their first new studio material in 29 months, the single "Roses and Sacrifice" followed shortly by two other singles, yet no official announcement of a full-length album.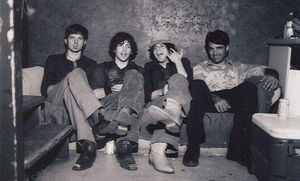 The band is composed of:
Current touring members:
Previous members include:
Collaborators include:
Discography & Songs
Edit
See The Avett Brothers discography for a list of all albums released by the band. See List of songs by The Avett Brothers for a list of all original songs (released and unreleased) by the band.
External links
Edit
References
Edit