The Avett Brothers released their ninth studio album titled True Sadness on June 24, 2016. It is their twelfth album overall, not including promotional EPs or live albums. The album was produced by Rick Rubin on his American Recordings label and reached #3 on the Billboard 200 during its first week of release.[1]
The album was made available on June 24, 2016 on CD, digital download and streaming with a vinyl release on August 5th, 2016. True Sadness contains 12 tracks, with an additional 2 exclusive tracks for Target customers.
Purchase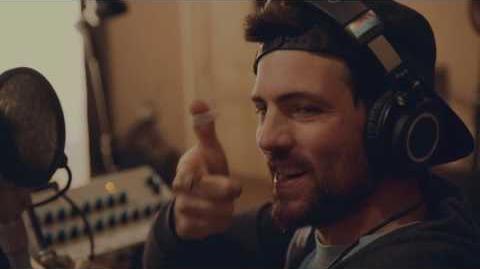 History
Photos of Scott, Seth, and Bob in a studio were published by Crackerfarm on his @crackerfarm Twitter account on April 11, 2014.[2] The three preceding days he tweeted different photos from the same window, assumably their demo recording studio.
In an interview with The Columbus Dispatch on May 29, 2014, Seth Avett told reporter Kevin Joy:
"

For the most part, the writing happens at home. We started in January with full-on studio time to develop. We're sitting on about 30 songs to start recording with Rick Rubin again.

"

— Seth Avett[3]

In June 2014 the band mentioned they were in the beginning phases of recording the album and had prepared the list of songs to record with Rubin in Malibu in November 2014.[4][5]
On December 13, 2014 during the Legendary Giveback III concert in Myrtle Beach, South Carolina they announced they had spent the previous few week recording their new album, hinting that "Rejects in the Attic" and "Fisher Road" were recorded. In an interview published December 23, 2014 Bob Crawford suggested the album would come out "sometime in the first half of 2016."[6]
In an interview published December 25, 2014 Scott Avett discussed the new process for the album:
"

We're right in the middle of [making our new album] and trying to get back to it before it gets stalled because a couple of us have kids coming next year. [...] [Recording with the seven-piece lineup] brings a lot of layers to the problem at hand. There's a lot more power now, and we're still learning how not to overuse that to make it most impactful. For contrast, we've done two versions of each song. First we went in just the three of us, Seth and me and Bob, to see what each song would sound like from a trio. Then we pull from that and push each one farther along to a different treatment with more players. That's the process we're in the middle of right now and it's very touchy.

"

— Scott Avett[7]

At the beginning of their 2015 tour, Bob mentioned they are recording the album will the full band live in studio, rather than piecemeal, the first time they've done so since Emotionalism.[8] [9] In an August 2015 interview with Cleveland.com Seth Avett revealed at they were "90% complete" with the new album.[10] In a September 2015 interview with MetroNews.ca Seth provided March 2016 as a tentative release month.[11] But in an early November interview, Bob Crawford mentioned it would be Spring or Summer 2016.[12] [13]
In an interview published March 1, 2016 Bob Crawford stated:
"

We're thinking summertime. Probably single to precede, but we're thinking — after the leaves come out and then before they change again, we'll have a record out. [...] It's done; it's being mixed and mastered and all that stuff.

"

— Bob Crawford[14]

On March 14, 2016 in an open letter to Avett Brothers fans penned by Seth Avett the album's title, artwork and release date were publicly announced.[15] The same day, the first single "Ain't No Man" was announced but not released.[16]
An April 13 interview with Scott inside his art studio he revealed the cover art was designed by him and Crackerfarm.[17] On April 15, 2016 the album's tracklist was made available on iTunes and "Ain't No Man" was released for download or streaming. On May 6 the single version of the titular song "True Sadness" was released for download or streaming. On May 13 the official music video for "Ain't No Man" premiered on NPR.org.[18]
On May 26 the album's pre-order was made available on Target.com revealing two exclusive tracks[19] the official vinyl box set (containing a collection of items from various North Carolina businesses) was made available for pre-order[20] and the official studio version of "Divorce Separation Blues" was premiered on Huffington Post.[21] On June 9 the studio version of "Satan Pulls the Strings" was released and on June 14 the standard vinyl edition of the album was made available for purchase.
The album was made available to stream in entirety on NPR's First Listen in June 20[22]
Announcement letter
Read the entire letter, published March 14, 2016, in whole, but notably:
"

True Sadness is a patchwork quilt, both thematically and stylistically. Wherein a myriad of contrasting fabrics make perfect sense on the same plane, this album draws upon countless resources from its writers and performers. To further propel the expansive color and textural fields of the record, we are blessed to play and perform music with a group of musicians who possess not only great talent, but great interpretive ability. They are an extension of our family and their care for the work at hand (and the project at large) informs a dynamic musical contribution to any piece we proudly give our last name. Sonically, the album is as multidimensional as its makers. The same could be said of its long list of influences. So the quilt is sewn, in part, with the brightly colored threads of Queen, Sister Rosetta Tharpe, Jimmie Rodgers, Tom Petty, Nine Inch Nails, Gillian Welch, Aretha Franklin, Walt Disney, Pink Floyd, Kings of Convenience, calypso of the 1950s and country of the 1930s. Rock and roll is here, as always. There are moments of undeniable celebration and camaraderie, others of quiet and lonely exhalation. Throughout the album, we stitched together the boldest red and the calmest green, polka dots and stripes, the roughest denim and the smoothest velveteen. They came together because they are the best patterns we have and because each of us brought our own fabric to the quilting frame.
We made this record as people who have made records together before — with experienced hands, appreciative hearts, renewed focus, and the knowledge of our good fortune to make music once again.
On June 24th, we will share with the world this work, these songs, and a contemporary chapter of our lives.''

"

— Seth Avett[23]

Production
True Sadness was recorded in a semi-experimental fashion, according to the band. Rick Rubin encouraged the Seth, Scott and Bob to record each song (ranging from 20-30 according to various reports) as an acoustic demo. Then, each song was recorded by the full seven-piece band during a single session, the first time since 2007's Emotionalism.[8] Rubin had a sound engineer remix their songs to explore new ideas, and the full band re-recorded all the songs after drawing inspiration from the remixes.
Although some members of the band were apprehensive to the experimentation, Seth and Scott followed Rubin's lead out of mutual trust.[24] The final album draws from each of those four variations of the songs.[25]
The album was recorded in Shangri-La Studios in Malibu, California and was recorded and mixed by Dana Nielsen.
Documentary
During the production of True Sadness filmmakers Judd Apatow and Michael Bonfiglio recorded a documentary about The Avett Brothers. The film was released in 2017, titled May It Last: A Portrait of The Avett Brothers.
Tracks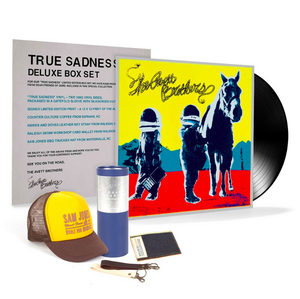 True Sadness contains twelve tracks. A Target special edition includes two bonus songs ("Rejects in the Attic" and a full-band version of "I Wish I Was".)[19] A limited edition vinyl set is available and will ship on August 5th, 2016, but includes no exclusive tracks.
Videos
Studio images
External links
Corrections? Additions?
This page is created by Avett Brother fans just like you. Click "Edit" to change, add, or remove content. You are encouraged to join in and edit this page!
Community content is available under
CC-BY-SA
unless otherwise noted.